Constructed with open cell, fast response memory foam, the Brooklyn Bedding Luxury Cooling Pillow reacts immediately to pillow pressure to gently support the unique shape of your head, neck and shoulders.
Dual action cooling combines pin core ventilation for increased airflow with a cool gel surface infusion that draws heat out and away from your head and neck.
Copper-graphite promotes greater breathability with antimicrobial benefits.
A premium circular knit cover combines silky smoothness with exceptional breathability to deliver cooling benefits on contact.
Materials are inherently antimicrobial and resistant to allergens, mold, bacteria and dust mites.
Available in low and high profile to provide just the right amount of support for your sleep position.
Luxury Cooling Pillow
Which profile is right for you?
Side Sleepers: Most side sleepers should opt for a higher profile pillow, which cradles the neck and head while elevating the shoulders.
Back Sleepers: Back sleepers have the latitude to sleep on either high or low profile pillows; back sleepers who snore or suffer from sleep apnea, however, should choose a higher profile pillow to better open their airways.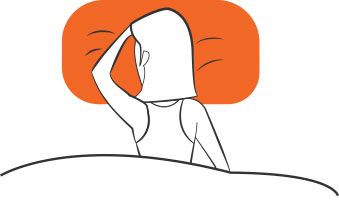 Stomach Sleepers: Stomach sleepers should look for a lower profile pillow to create a more neutral spine position—this will help you avoid stiffness, aches, and pains in the neck, shoulder and back regions.
Brooklyn Bedding
Industry Reviews
"Owning their own factory gives Brooklyn Bedding extraordinary control over their materials, cost, and assembly specifications."
"[Brooklyn Bedding offers] high-quality product sold at extremely competitive prices. Their direct-to-consumer business is reflected in the brand's ability to pass savings along to their customers."
"There's no doubt with Brooklyn Bedding that the designers and manufacturers are mattress experts and knew very well how to make a quality product."
Brooklyn Bedding
Frequently
Asked Questions
All of our pillow covers are washable. Simply remove the cover, machine wash on a gentle setting, tumble dry low or lay flat to dry. We recommend only spot cleaning the pillow insert.
Yes, all pillow inserts and covers are designed to be hypoallergenic. The Talalay Latex Pillow is especially well suited to those who suffer from allergies or asthma given the inherent properties of naturally extracted latex.
Our 120-night trial applies to mattresses only. Sheets, mattress protectors and pillows can be returned for a full refund within 30 days of receipt. Should you need to return a product, we ask that you package the merchandise and contact us at [email protected] with package dimensions so that we can email you a prepaid shipping label. We then ask that the merchandise be shipped back to our facility at no charge to you. Platforms are subject to a 3-year warranty. You can contact our customer service team for more details.